<![if !vml]><![endif]><![if !vml]><![endif]><![if !vml]><![endif]><![if !vml]><![endif]><![if !vml]><![endif]><![if !vml]><![endif]><![if !vml]><![endif]>

<![if !vml]><![endif]><![if !vml]><![endif]><![if !vml]><![endif]>

Gregory's Gardening Guide

<![if !vml]><![endif]><![if !vml]><![endif]><![if !vml]><![endif]>

<![if !vml]><![endif]><![if !vml]><![endif]><![if !vml]><![endif]><![if !vml]><![endif]><![if !vml]><![endif]><![if !vml]><![endif]><![if !vml]><![endif]>
<![if !vml]>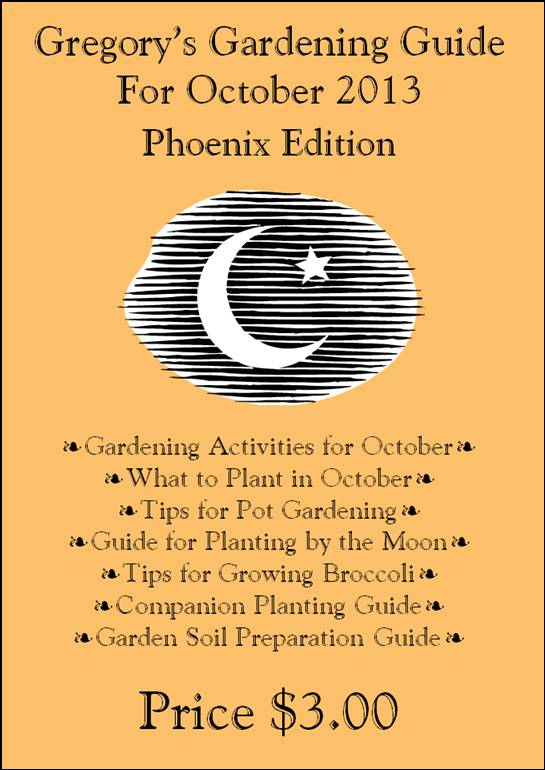 <![endif]>
<![if !vml]>

<![endif]><![if !vml]>

<![endif]><![if !vml]>

<![endif]><![if !vml]>

<![endif]>
The only local monthly gardening publication exclusively dedicated
to Gardening in Arizona!
<![if !vml]>

<![endif]><![if !vml]>

<![endif]><![if !vml]>

<![endif]><![if !vml]>

<![endif]>
Helping Arizona Gardeners Grow Since 2009
With monthly tips and tales for gardening, and growing Herbs & Vegetables in Arizona.
Our Phoenix Edition will give you:
just what you need to know,
just when you need it,
just where you need it,
to grow your plants
in our unique Arizona climate.
Each issue of  Gregory's Gardening Guide features:
Monthly Gardening Activities – lets you know what you should be doing in your yard & garden.
What to watch for seasonally, when to plant, when to prune, when to fertilize.
What to Plant for the Month – a monthly planting calendar for vegetables,
tailored specifically for planting in Phoenix.
Lunar Planting Calendar – for those who want to plant by the Moon, there is a lunar
planting calendar letting you know when to plant specific crops each month.
Companion Planting Guide – lets you know what plants to plant together to increase their health,
 and what combinations to avoid.
Soil Preparation Guide – instructions on how to prepare Arizona soil for flowers & vegetables.
Two gardening articles – two timely gardening articles about gardening in Arizona's unique climate.
<![if !vml]>

<![endif]><![if !vml]>

<![endif]><![if !vml]>

<![endif]><![if !vml]>

<![endif]>
ISSN 2154-2694
Phoenix Edition
Published Monthly – twelve times a year
by
Gregory's Garden, LLC
<![if !vml]><![endif]><![if !vml]><![endif]><![if !vml]><![endif]><![if !vml]><![endif]><![if !vml]><![endif]><![if !vml]><![endif]><![if !vml]><![endif]>

<![if !vml]><![endif]><![if !vml]><![endif]><![if !vml]><![endif]>

Gregory's Gardening Guide

<![if !vml]><![endif]><![if !vml]><![endif]><![if !vml]><![endif]>

<![if !vml]><![endif]><![if !vml]><![endif]><![if !vml]><![endif]><![if !vml]><![endif]><![if !vml]><![endif]><![if !vml]><![endif]><![if !vml]><![endif]>
 [This page was last updated on May 17, 2018]
GregorysGardeningGuide.com/GuideContents